Beautiful, Dirty, Rich by Lady Gaga is on Just Dance Unlimited.
185.png
Beautiful, Dirty, Rich
Game(s)
Artist
Year
Released Date(s)
Difficulty
Effort
No. of Gold Moves
No. of Shake Moves
Dancer Gender(s)
Mashup
Alternate Routines
Dance Mode
Menu Color
Pictogram Color
Glove Color
Lyrics Color
Pictogram Count
Total Calories
Burnable (

kCal

)
Duration
Code Name
Preview Audio
Choreographed By
Performed By
[Source]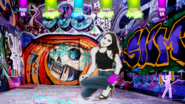 Trivia
"Sh*t" is censored.

"Pornographic" isn't censored.
Ad blocker interference detected!
Wikia is a free-to-use site that makes money from advertising. We have a modified experience for viewers using ad blockers

Wikia is not accessible if you've made further modifications. Remove the custom ad blocker rule(s) and the page will load as expected.