Berzerk
by Eminem is on Ultimate Just Dance
Appearance of the Dancer
The dancer wheres a Camouflage vest, red beanie and grey sweater. He resembles Eminem.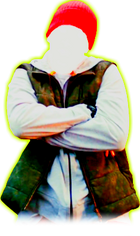 Background
The background is a realistic city street at night. There are multiple lamps that light up and flash colors during the bridge. And buildings in the far background
Gold Moves
There are 3 Gold Moves in the Classic routine and 1 in the Mashup
Classic
Gold Move 1: Play an air guitar by strumming the invisible strings (Recycled from Stadium Flow Fanmade version)
Gold Move 2: Hit your right hand sideways and then vertically South - East and move right.
Gold Move 3 Put your hand in the air, this is the final move of the routine
Mashup
Gold Move:Point to the right with both hands (Pump It)
Mashup
There is a Mashup for this song themed "R&B"
Let's Get It Started
Airplanes
So Good
Here Comes The Hotstepper
Pump It
Feel So Right
Let's Get It Started
Airplanes
So Good
Here Comes The Hotstepper
Pump It
Feel So Right
Rockafeller Skank
Let's Get It Started
Airplanes
So Good
Let's Get It Started
Here Comes The Hotstepper
Pump It
Feel So Right
So Good
Pump It (GM)
Trivia
The dancer has a darker color scheme in the covers than in actual gameplay.
A new square for the dancer had to be made because the left hand wasn't white.
"f*ck" and "sh*t" were censored
The Beta version of this routine has a thicker, red outline and an orange glove. The dancer's skin looks yellowish as well. The avatar is based off the beta hence the red outline
Gallery