Chained To The Rhythm
Game(s)
Just Dance Planet
Just Dance Goals 2
Just Dance Realness 2
Artist
Katy Perry Ft. Skip Marley
Year
2017
Released Date(s)
Difficulty
Effort
No. of Gold Moves
No. of Shake Moves
Dancer Gender(s)
Female (JDP/JDG2/JDR2)
Unknown (Hands Version) (JDR2)
Mashup
Alternate Routines
Dance Mode
Solo (JDP/JDG2/JDR2)
Trio (Hands Version) (JDR2)
Menu Color

Cerise

(JDR2)
Silver (Hands Version) (JDR2)
Pictogram Color
Tawny Port (JDR2)
Blue/Red/Harlequin (Hands Version) (JDR2)
Glove Color
Rose (JDR2)
Arapawa/Dark Burgundy/Japanese Laurel (Hands Version) (JDR2)
Lyrics Color
Yellow (JDR2)
Purple Pizzazz (Hands Version) (JDR2)
Pictogram Count
Total Calories
Burnable (

kCal

)
Duration
Code Name
ChainedToTheRhythm (JDR2)
Preview Audio
Choreographed By
Performed By
[Source]

"Chained To The Rhythm" by Katy Perry ft. Skip Marley is featured on Just Dance Planet, Just Dance Goals 2, and Just Dance Realness 2.
Dancer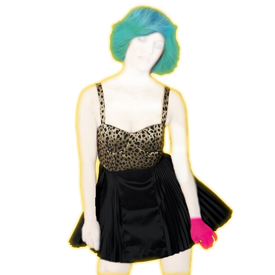 C1
The coach is a female with the following:
She has short blue and green hair.
She has a top with tiger motifs.
She wears a black skirt.
The coach wears golden high heels.
C2
The coach has the following:
She has short purple and blue hair.
She has now a top with green tiger motifs.
She stills wears a black skirt.
The coach wears pink high heels.
Background
The background is a big pink/purple room in the chorus the background zooms in. In the refrain the background is purple with a white big disco ball.
Gold Moves
There are 2 Gold Moves in this routine.
Gold Move 1: She jumps with her arms punching the roof
Gold Move 2: She turns around and puts her arm on her shoulders
Mashup
The mashup has these songs in sequential order:
Trivia
The routine was aviable the day after the song was released to public.
Katy was such a bitch that a week after the DLC was released, it had to be removed from the Shop. Players who downloaded it before it was removed can still play the song.
Gallery
Ad blocker interference detected!
Wikia is a free-to-use site that makes money from advertising. We have a modified experience for viewers using ad blockers

Wikia is not accessible if you've made further modifications. Remove the custom ad blocker rule(s) and the page will load as expected.