The wiki about Just Dance fanmade blog games!
Before going elsewhere on the wiki, read the rules so you don't get punished!
Before creating a page, or games, check out our guides to help you.
Need help? Have a question or clarification? Problem dealing with other users? Talk to our admins - HappyDancer10, HeypplsOfficial, JD4SURVIVOR, JDisbae, JDLover12, Kafluffle101', TheEmmaShow, YoSoyAri, ZodiacGiraffe and MrFlamur. Post on their message wall and they will reply as soon as possible.
Featured Video(s)
Article of the Month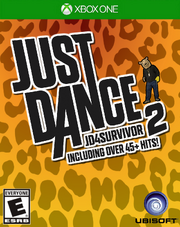 Just Dance: JD4SURVIVOR 2 is the second installment in the Just Dance: JD4SURVIVOR franchise. The game will be released on April 20th, 2019 in the United States and Japan, and June 9th, 2019 everywhere else in the world.
Click here to see the article.
Announcements
This section will be updated should any important matters or affairs arise.
Latest News
The wiki shop is now open! The theme is "Just Dance Forever!".
Endless Polls
Refresh for another poll.
Random Fact
This was supposed to be the original logo for our wiki
Blogs
Create blog post
Blogs
If any one wants to suggest a song to add to my game Just Dance Dogger they can and I may add it later...

Read more >

So yeah, I'm taking avatar request. Send me the name of the song and what your avatar looks like.

I can take criticism and all that so dont worry.

Read more >
See more >
Ad blocker interference detected!
Wikia is a free-to-use site that makes money from advertising. We have a modified experience for viewers using ad blockers

Wikia is not accessible if you've made further modifications. Remove the custom ad blocker rule(s) and the page will load as expected.