"Into You" by Ariana Grande is featured on Just Dance Golden
Appearance of the Dancer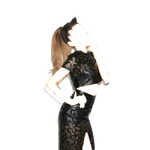 The Dancer is a female, who is supposed to resemble Ariana Grande.
Full black attire
Black kitten ears
Background
The background is a desert that is meant to represent the one seen in the Into You music video.
Gold Moves
There is 2 gold moves in the routine:
Gold Move 1: When 'Until we cross the line' is sung, dance forward pointing your hands outwards
Gold Move 2: When the song finishes, raise your arms up into the air slowly.
Mashup
The mashup titled 'Sassy Girls', it features these songs in sequential order (no repeats)
*Note- The mashup is stated as 'Sissy That Walk' in the files.
Into You
All About That Bass
Dangerous Woman
You Make Me Feel
Rabiosa
Can't Get You Out Of My Head
Ain't No Other Man
It's Raining Men
Circus (Extreme)
Gallery
Ad blocker interference detected!
Wikia is a free-to-use site that makes money from advertising. We have a modified experience for viewers using ad blockers

Wikia is not accessible if you've made further modifications. Remove the custom ad blocker rule(s) and the page will load as expected.