Mi Mi Mi
Game(s)
Just Dance: JD4SURVIVOR 2
Artist
SEREBRO
Year
2013
Released Date(s)
Difficulty
Effort
No. of Gold Moves
1
No. of Shake Moves
Dancer Gender(s)
Female
Mashup
Alternate Routines
Dance Mode
Solo
Menu Color
Pictogram Color
Hot Pink
Glove Color
Lyrics Color
Pictogram Count
Total Calories
Burnable (

kCal

)
Duration
Code Name
Preview Audio
Choreographed By
Performed By
[Source]
"Mi Mi Mi" by SEREBRO is featured on Just Dance: JD4SURVIVOR 2.
Appearance of the Dancer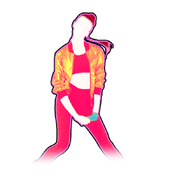 The dancer is wearing a pink tube top, but it is covered by her peach colored foil jacket. She is wearing pink leggings, and pink and black high tops. She looks similar to the coach of Ulybaissa (Smile).
Background
The background represents a pink concert stage with strobe lights. She is a stage performer, and the stage fades behind her, and transforms to a galaxy.

Gold Moves
The song only features 1 Gold Move, and it is the final move of the routine.
The Gold Move: Turn to the side and point with both arms. Put your arms near your waist, and act like your pointing to a friend with both arms.
Trivia
The gold move is the same gold move as the gold move from Pump It. It's Pump It's second gold move.
The hud for the gameplay was made by SatoTheScientist101.
This is the 16th track added to the game page.
Gallery
Ad blocker interference detected!
Wikia is a free-to-use site that makes money from advertising. We have a modified experience for viewers using ad blockers

Wikia is not accessible if you've made further modifications. Remove the custom ad blocker rule(s) and the page will load as expected.