Milk And Cereal
Game(s)
Just Dance: JD4SURVIVOR 2
Artist
G. Love and Special Sauce
Year
1999
Released Date(s)
Difficulty
Effort
No. of Gold Moves
2
No. of Shake Moves
Dancer Gender(s)
Male
Mashup
Alternate Routines
Dance Mode
Solo
Menu Color
Pictogram Color
Orange
Glove Color
Lyrics Color
Pictogram Count
Total Calories
Burnable (

kCal

)
Duration
Code Name
Preview Audio
Choreographed By
Performed By
[Source]
"Milk And Cereal" by G. Love & Special Sauce is featured on Just Dance: JD4SURVIVOR 2.
Appearance of the Dancer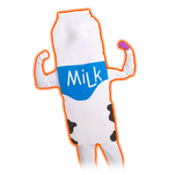 The dancer is a man, and he is dressed in a milk carton costume. He is wearing white pants, and a long white shirt. He has a purple glove on, and he has a milk carton over his shirt and pants. He is wearing Beige sneakers.
Background
The background varies between the song. It starts out as Lucky Charms, and progresses to several other cereals such as "Cap n' Crunch", "Cheerios", and "Frosted Flakes".
Gold Moves
The song features 2 Gold Moves in the routine, all of which are the same.
All Gold Moves: Lift your leg up and swipe your hand, by putting it out.
Trivia
The gold move is the same sprite from The World Is Ours from Just Dance 2014.
The hud for the gameplay was made by SatoTheScientist101.
The song was the 18th song added to the Just Dance: JD4SURVIVOR 2 page.
Gallery
Ad blocker interference detected!
Wikia is a free-to-use site that makes money from advertising. We have a modified experience for viewers using ad blockers

Wikia is not accessible if you've made further modifications. Remove the custom ad blocker rule(s) and the page will load as expected.