My Neck, My Back by Khia is featured on Just Dance: STRIPPER.
Classic
The dancer wears short jean shorts, a blue top, and a jean jacket.
The background is a mix of I Luh You Papi and Want To Want Me, however, the silhouettes of Want To Want Me are dancing more inappropriately.
Alternate Mode
There is a pole dance alternate on both games.
The dancer wears a dark grey grey, tight-bra, and a dark grey thong, both which can be only hardly seen. The dancer is blacked out, similarly to the Rich Girl chair dance.
The background is a lighter grey, similarly to the Rich Girl chair dance.
Trivia
Nothing is censored on the game.
This is the first song to appear with the same alternate and classic routine, which appear the same way.
The dancer's heels are not visible on the square.
Video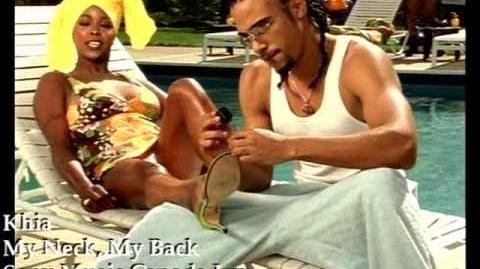 Ad blocker interference detected!
Wikia is a free-to-use site that makes money from advertising. We have a modified experience for viewers using ad blockers

Wikia is not accessible if you've made further modifications. Remove the custom ad blocker rule(s) and the page will load as expected.