This article is about the original song. You may be looking for the Axel F remix with the same name.
PPAP
Game(s)
Just Dance: JD4SURVIVOR 2
Artist
PIKOTARO
Year
2016
Released Date(s)
Difficulty
Effort
No. of Gold Moves
5 (Classic)
1 (Alternate)
No. of Shake Moves
Dancer Gender(s)
Male (Classic)
Female/Male (Alternate)
Mashup
Alternate Routines
Dance Mode
Solo
Menu Color
Pictogram Color
Orange (Classic)

Glove Color
Rainbow (Classic)
None (Alternate)
Lyrics Color
Rainbow
Pictogram Count
Total Calories
Burnable (

kCal

)
Duration
Code Name
Preview Audio
Choreographed By
Performed By
[Source]
"PPAP" by PIKOTARO is featured on Just Dance: JD4SURVIVOR 2 and Just Dance Planet.
Appearance of the Dancer
Classic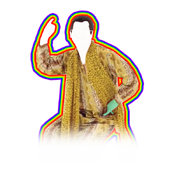 The dancer has flat brown hair, a cheetah and leopard pattern scarf, a leopard pattern yellow outfit (jumper and pants), and white and black shoes. During the dance time break, the dancer inverts colors.
Apple Pineapple Version
The dancers represent an apple and a pineapple.
P1
P1 wears a light shade of red, and it's an apple mascot costume.
P2
P2 wears a slightly darker shade of yellow, and it's a pineapple mascot costume.
Background
Classic
The background is fruit falling from the sky into a huge pile, that fills up fully at the end of the song. The fruits includes mostly apples and pineapples, because of the song.
Alternate
The background is also fruit, but is all piled up, and stays the same the whole time.
Gold Moves
Classic
Gold Move 1 & 3: Point to the front, while putting your leg behind you. Gold Move 2 & 4: Shove your hands down, right before each chorus. Gold Move 5: Point to the front with one arm while standing to the side. This is the final move of the routine.
Alternate
Gold Move: Put your hands up in the air slightly.
Trivia
The gold move sprites are from Till I Find You, Je Sais Pas Danser and Ninja Re Bang Bang from Just Dance 2015, Just Dance 2017 Unlimited, and Just Dance Wii U respectively.
Gallery
Ad blocker interference detected!
Wikia is a free-to-use site that makes money from advertising. We have a modified experience for viewers using ad blockers

Wikia is not accessible if you've made further modifications. Remove the custom ad blocker rule(s) and the page will load as expected.