"Partition" by Beyonce is featured on No Tea, No Shade, Just Dance.
Partition
Game(s)
No Tea, No Shade, Just Dance
Artist
Beyoncé
Year
2013
Released Date(s)
Difficulty
Effort
No. of Gold Moves
2
No. of Shake Moves
Dancer Gender(s)
Mashup
Alternate Routines
Dance Mode
Menu Color
Pictogram Color
Red
Glove Color
Pink
Lyrics Color
Pictogram Count
Total Calories
Burnable (

kCal

)
Duration
Code Name
Preview Audio
Choreographed By
Performed By
[Source]
Appearance of the Dancer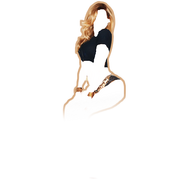 The dancer is female and has goldish brown hair.  She wears a black crop top and a leapord bikini.  She also has a gold braclet on each of her hands and wears black shoes.
Background
The background is a deep purple brick wall that gradually alternates to deep blue throughout the song.  The are deep blue sparkles that gradually alternate to deep purple throughout the song.  There are two black silhouettes of female dancers who dance throughout the song.
Gold Moves
There are two gold moves in the routine.
Gold Move 1- Drop down and open your legs.  Put your hands in the air.
Gold Move 2- Run your hands down the side of your body and shake your hips.
Mashup
The mashup has these songs in sequential order:
Hold Up
Single Ladies (Put A Ring On It)
/***Flawless
Formation
Sorry
7/11
Run the World (Girls)
Halo
If I Were A Boy
Drunk In Love
Don't Hurt Yourself
Gallery
Ad blocker interference detected!
Wikia is a free-to-use site that makes money from advertising. We have a modified experience for viewers using ad blockers

Wikia is not accessible if you've made further modifications. Remove the custom ad blocker rule(s) and the page will load as expected.