Take My Time
Game(s)
Just Dance: JD4SURVIVOR 2
Artist
Junior Senior
Year
2005
Released Date(s)
Difficulty
Effort
No. of Gold Moves
Classic=4
Alternate=2
No. of Shake Moves
Dancer Gender(s)
Male
Mashup
Alternate Routines
Dance Mode
Solo
Menu Color
Pictogram Color
Classic=Red
Alternate=Orange
Glove Color
Lyrics Color
Pictogram Count
Total Calories
Burnable (

kCal

)
Duration
Code Name
Preview Audio
Choreographed By
Performed By
[Source]
"Take My Time" by Junior Senior is featured on Just Dance: JD4SURVIVOR 2.
Appearance of the Dancer
Classic
The dancer represents a giraffe. He sports a pair of blue sunglasses and a bowtie with the american flag printed on it. He does not sport a glove.
Alternate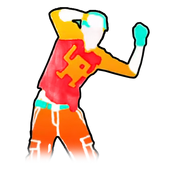 The dancer is taken from Move Your Feet of
Just Dance 2
, another song by Junior Senior. He wears a light turquoise hat, a red and dark yellow shirt with a pixel character on the shirt, a light turquoise belt, orange pants, and orange sneakers. His glove is blue.
Background
Classic
The background is lavender with the words "TAKE MY TIME" behind the dancer. Several designs pop up during the song.
Alternate
The background is rainbow, with designs from the music video popping up in front of the rainbow. The floor is checkerboard, and it's orange and yellow.
Trivia
This is the first song to feature a reused dancer in the JD4SURVIVOR series for an alternate.
Take My Time's alternate was a last second addition, and was not meant to be included.
The avatar includes a black bowtie, and sunglasses with a black frame, which resembles the beta version.
Gallery
Ad blocker interference detected!
Wikia is a free-to-use site that makes money from advertising. We have a modified experience for viewers using ad blockers

Wikia is not accessible if you've made further modifications. Remove the custom ad blocker rule(s) and the page will load as expected.