Hey guys!
Sorry if I was not active for few days, because I was planning one coach for song "Only One" in my fanmade game.
And because I was not active, I will give you this little preview of rendering my coach. (On the right side of my screenshot, you can see my little collection of bought products, just ignore these XD)
Hope you like it! :) Have a nice day! :D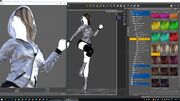 Ad blocker interference detected!
Wikia is a free-to-use site that makes money from advertising. We have a modified experience for viewers using ad blockers

Wikia is not accessible if you've made further modifications. Remove the custom ad blocker rule(s) and the page will load as expected.