"Where My Baes At?" by Miranda Sings is featured on Just Dance You. 
Dancer
P1 resembles Miranda Sings
Brown hair
Official purple shirt that says "Haters Back Off"
Miranda Sings' official "Haters Back Off" red sweatpants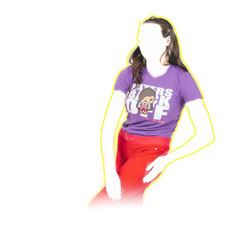 Background
The background is purple with words that says "Where My Baes At". In the chorus, the bacground turns into many different youtubers, dancing in parties with Miranda. These repersents her baes.
Gold Moves
There is one Gold Move repeated twice throughout the song.
Gold Move: Point your pointing finger to the screen.
Dance Quests
This song appears in the "Famous Youtubers" quest.
Trivia
This is the first song sung by Miranda Sings
This is the first Youtube song. This is followed by Superluv
The dancer is performed by Colleen Ballinger
Gallery
Ad blocker interference detected!
Wikia is a free-to-use site that makes money from advertising. We have a modified experience for viewers using ad blockers

Wikia is not accessible if you've made further modifications. Remove the custom ad blocker rule(s) and the page will load as expected.